G-5-9 = Ji-Go-Ku = Hell
G59 - DEFAULT ROUTE COMING SOON!!
/
________________________________________________________________________________________________
General notes about G59
FIRST WARNING: this is just an unofficial EXU2 campaign started from my own mind; Waffnuffly and its BATSHIT INSANE campaign have nothing to do with this (more like, G59 happens many centuries later). G59 runs under OPEN BETA v5.01 and beyond.
SECOND WARNING: I take in consideration that whoever plays this, has already finished the EXU2 BI Campaign, or possibly knows the apocalyptic unknown-made wonders that lies in the EXU.u - meaning weapons, enemies, items, etc. And obviously the high gameplay style. You should better play BATSHIT INSANE which is fucking good because my campaign will have a few spoilers about the original one itself AND MORE (mostly about enemies anyway) and the difficulty will be tough from Map 1. No holy godammned mercy. There will be a heavy use of difficulty filtering - G59 is generally designed to be played on Unreal, but I'm not giving you something that you can't complete: choose Easy, for example, and you'll be fine.
Objective is simple: shoot, kill, clear map. Like in Batshit Insane. You'll revisit maps from RTNP and the Unreal Beta; it's all conversions basically, but since I know the original maps for years now, my gameplay work will be easier to develop and most of all, better. Mappack is strongly thematic - hell theme is still there, alongside new and known stuff. Every level will bring always something unique from the rest, with mini-puzzles too so at least you won't be stuck killing bastards 100% of the gameplay time. There will be a story.
The Male 3's Bane skin is used to represent the character you play as (story purposes).
A niche project.
Resuming
-G59 has nothing to do with Waffnuffly's EXU2 campaign. You can consider this to be the last ever event of the Unreal universe, though.
-The general atmosphere tone is definitely different than Batshit insane, so mind that.
-Currently, four maps are playable plus a short intro.
-Generally high difficulty, based on relentless, battle-after-battle style of gameplay.
-New enemies to fight and bosses.
-Various secrets to find with useful stuff. Optional obviously.
-Lots of custom music.
-Anything you know from EXU2.
Songs used
-EXU2 - You Died (from EXU2 OPEN BETA)
-Gagarin / Cybernetika (8th album - Colossus)
-Towards The End Of Time / Cybernetika (6th album - Atropos)
-Devoid Of Gravity / Cybernetika (8th album - Colossus)
-Conquest / Cybernetika (6th album - Atropos)
-Metallic Monks / Mark Morgan (Vault Archives)
-Hayashis Journey / Cybernetika (6th album - Atropos)
-Close Your Eyes / Cybernetika (8th album - Colossus)
DEFAULT ROUTE version 1.00 Notes:
Change Log (may contain spoilers)
[spoiler]EVERYTHING GOT CHANGED HERE! G59 has been updated to run under EXU2 OPEN BETA. Also, all the maps got heavy updates and there's more content in general![/spoiler]
________________________________________________________________________________________________
DEFAULT ROUTE Progress
G59 - DEFAULT ROUTE release scheduled for November 3rd 2012 (Midnight Europe Time).
Screenshots: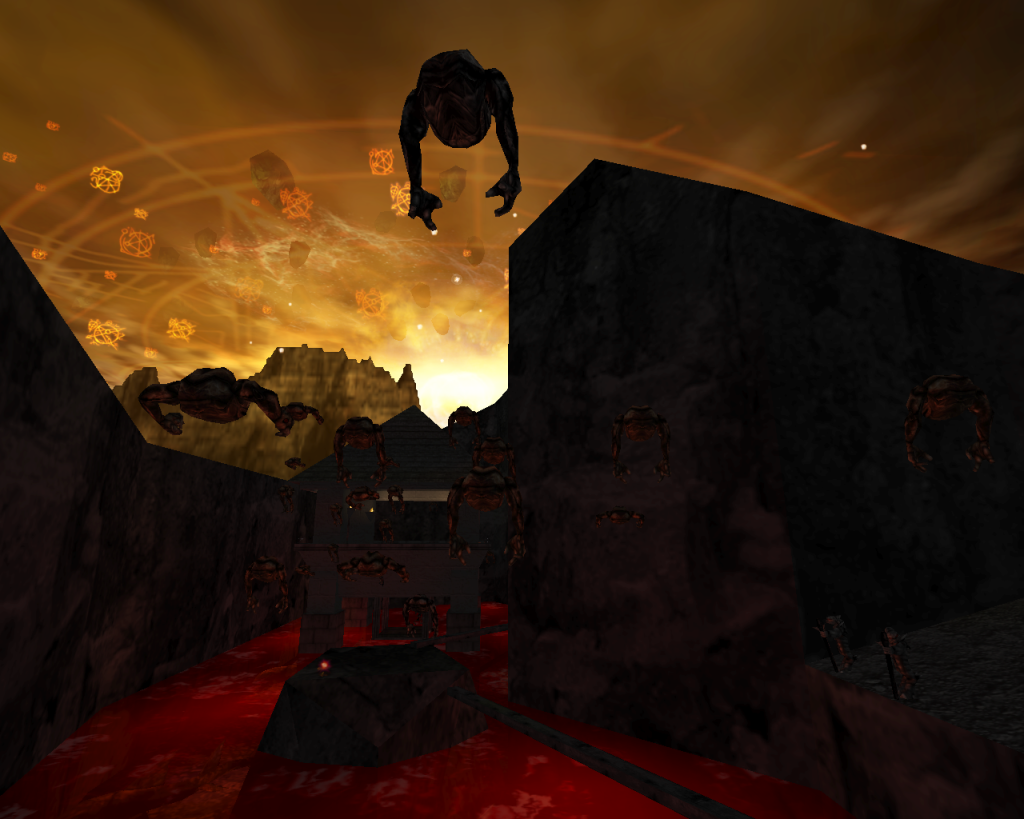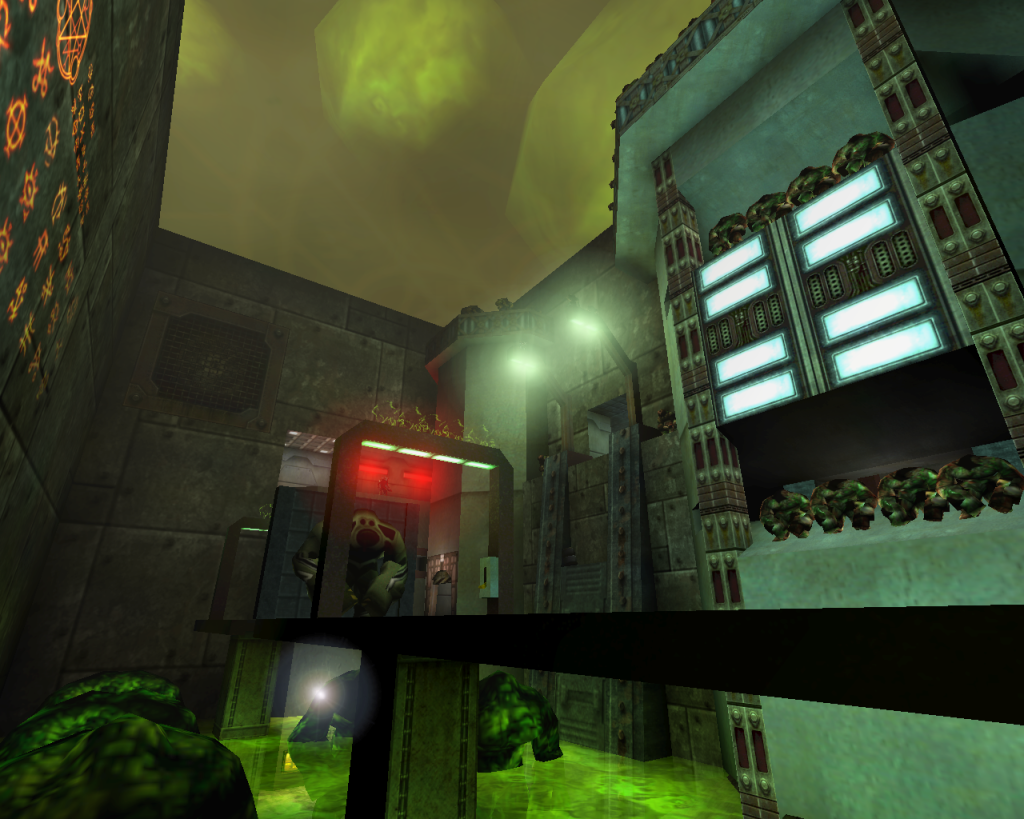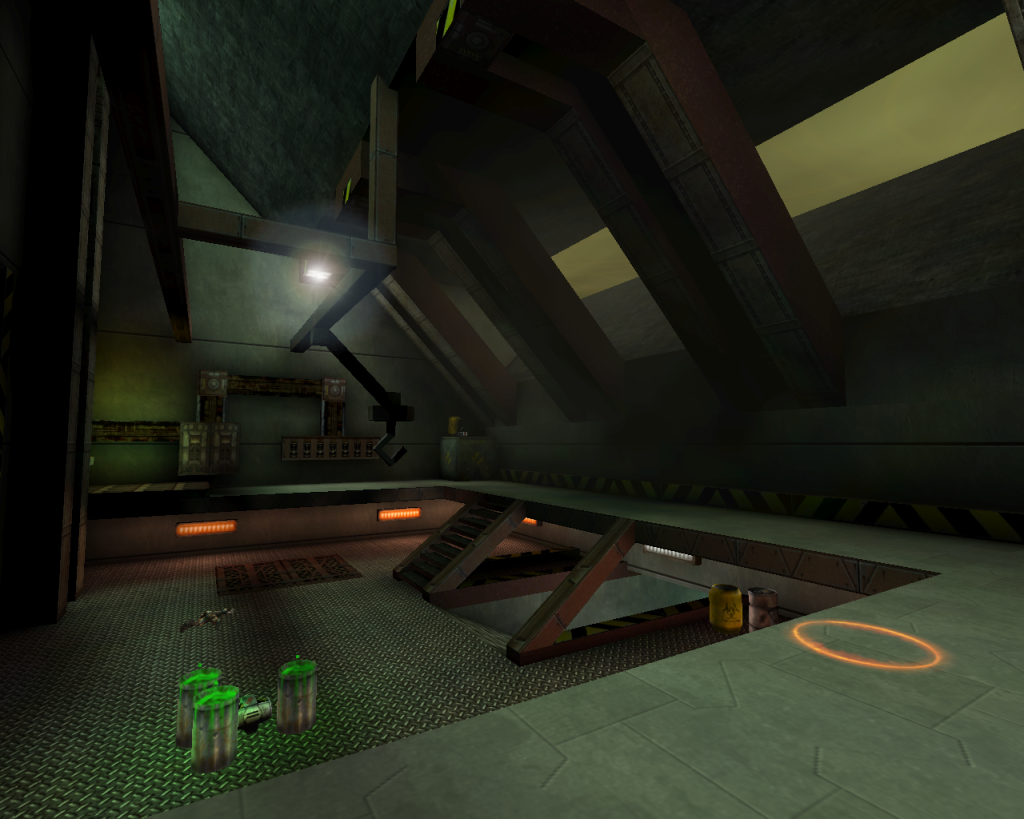 The Story
Centuries have passed and Na Pali looks nothing like it was before.
The whole planet is now filled with creatures of every alien kind, swarming over territories and modifying the environments at their own will. They like to be called Demons. And they like to call their planet Hell. Nobody knows how this possibly happened, but going to the past is impossible; so, who cares?
Demons are divided into clans, either of different ranks or Element. Opposing them are the Saints, white beings that come from the skies. Wars between Demons and Saint are usual, but more common are battles between Demon clans for conquering territories.
One of these clans was known under the name of GALGALIM. These blue, Energy-based Demons, with their powerful leader, managed to bring order in the whole Hell. One day though, they disappeared. But the GALGALIM managed to do their job, and the current King of Demons, named BaalBerith, was given responsibility to continue what the Energy entities achieved.
All nice, right?
All of a sudden, parts of Hell were swallowed by something which looked like a moving black cloud composed of organic beings. Demons defined them as Shadows; Saints suffered immensly by this invasion.
Chaos ensued again; Demons fighting other Demons to conquer more territories possible, escaping from the walking black hole. The strongests managed to survive, but will the greatest Demon clans be able to stop the blackness?
In the meanwhile, a human survivor was still running amok throughout the wastelands. Humans are definitely not liked by the Hell population, so he's doing one HELL of a job by staying alive... but great timing! He finds himself in the middle of this chaos, but he can exploit the nervousism of the Demons to make it through, and finding what's going on around the planet. Which position will he take? Driving the Hell into a neverending abyss, or actually managing to fix up things?
But seeing corpses that look like him, High Lords that seem indifferent to anything and weird messages, then there's something even more darker hiding around...
________________________________________________________________________________________________
THE SCANNER OF ELOHIM: SPECIAL INFORMATION
[spoiler]
The Hell Survivor
We have applied this name for the lone runner who appeared from nowhere (possibly due to the mysterious teleport system of Hell) in the valley of Nebiros. He is recognized as a Grade S | Major threat to the demon population, forcing even one of the High Lords to dispatch large groups of Demon soldiers to end his existence. It is known that his signal strangely disappears, sometimes; the human will attack anything on sight, and that may be the same for our race as well. We are following him, but according to our computers, the target was already analyzed several times in the past, dates unknown. None of us has ever seen him before.
High Lord Morax
One of the 72 High Lords, Morax is one of the strongest. Aside that, he's nothing more than an annoyed entity because he simply can't find a duty which he would enjoy. He was supposed to guard the land of Nebiros, but afterwards he was sent to rule over the Hyper Boundary Gate.
There's no known info about his past; he's an energy-based being, and use green laser bolts to attack enemies, in addittion to his high agility.
His name means "to stop".
The Gatekeeper Naberius
An artificial demonic creature, created to resemble in both looks and power the extinct UltraBags. Unfortunately Naberius is only half as powerful as the real things, but that's already saying a lot. He's the master unit of Nebiros, guarding its exit alongside the Demon Juggernaut in charge. He only appears when he feels like it's necessary.
Sun God Tonatiuh
A demonic priest of light who's escaping from the darkness and trying to find places where the Sun shines. Recognizing Perditus Paradisus as the perfect location for his needs, he and his legion will be trying to conquer it. He's somewhat blind, but extremely aggressive against anyone.
BaalBerith
The current King of Hell. He carries the responsibility of bringing order to Hell. BaalBerith and his medieval-like army live in a fortress which lies below a mountain chain. He's insanely powerful, to the point of creating unstable phenomenas.
His biggest champion is called The Black Knight, who has been recently ordered to cause havoc in one of our sanctuaries.
Jrath
Alongside a bunch of meaningless numbers and signs, this name often appears in our computers (and also in the ones of the Demons) after fatal errors that happen when we try to check some pieces of unknown data. No translators to decifrate them exist yet. Nothing else is known.
Nebiros' Crossing (known as "The Limbo")
An iconic Hell valley which is mostly forgotten by demons, but not anymore. A kind of magnetic firestorm is apparently passing near Nebiros; from that point, this place has become the shelter of many demons who want to hide from the imminent - but not that catastrophic to our experts - meteor fall. Coincidently, Nebiros is (or was) guarded by Morax, and where also the Hell Survivor appeared.
The biggest units protecting Nebiros and his demons are a Demon Juggernaut and the Gatekeeper Naberius.
Abandoned industrial facility
It is known that groups of Demon Skaarj have been sent to this location for unknown reasons. They never returned. The Hell's mysterious teleport system has probably a link leading here. No pictures available.
The Hyper Boundary Gate
The name of one of the biggest "Shit-Biological" bases. Living here if you're not a Bio or Shit based creature is just as bad as looking at one of those Brutes inside a toilet. The master of this heavily protected facility is currently the High Lord Morax. "Shit" cannons are built here and some are already installed outside the structure for defense against enemy demon clans. The air is disgusting, the pollution level is high, but strangely, the contained slime seems to be almost purified. Morax dispatched his best Demon troopers throughout the place as he knows about the imminent arrival of the Hell Survivor.
Perditus Paradisus
The lost paradise, the most unique location of Hell. It's located just next to the Hyper Boundary Gate, but a spell prevents the pollution to arrive in there. It's basically considered a resort, although only the highest lords, including Archdemons, have access to it. Here, you can rest, forever. According to some information, many creatures of the lower classes led by Tonatiuh are forcing their way inside the resort.
The "ELECTRIC MASSIVE DIVER" demonic submarine
Probably the weirdest name that the demons have adopted for something.
Not much is known about this place: it is enormous, and the whole crew inside (generally Hyper beings) tries to be as reserved as possible. Judging by the name, the EMD may be nothing more than a nuclear submarine, apparently powered by two giant Nuclear Slith hiding in the core. The level of alert of the Hyper demons is steadily at maximum.
GALGALIM Energy clan
The group who managed to keep the Hell at bay from any local war. Highly advanced and reserved, they disappeared all of a sudden. They still live somewhere.
The Princes of the 7 Sins
Mammon, Asmodeus, Belphegor, Beelzebub, Lucifer, Leviathan and Satan. After centuries, these mighty seven devils are now out of business but still roam the planet is some way or another. They're now searching new masters to serve by blindly following their orders and aiding them with their special powers. Some of the devils will test them, the others are simply hiding away and waiting.[/spoiler]
________________________________________________________________________________________________
COMING SOON!