Will update with a non-descriptive description and suspicious stolen screenshots soon.
Update 1:
after 3 hours and 30 minutes of mapping... I give you Pictures! Behold the starting area of my entry!
Ignore the floating, unsourced flame. Lighting may also be reduxxed. If you think you recognise something in this map from somewhere else, well.... you're right
Don't you just love the details?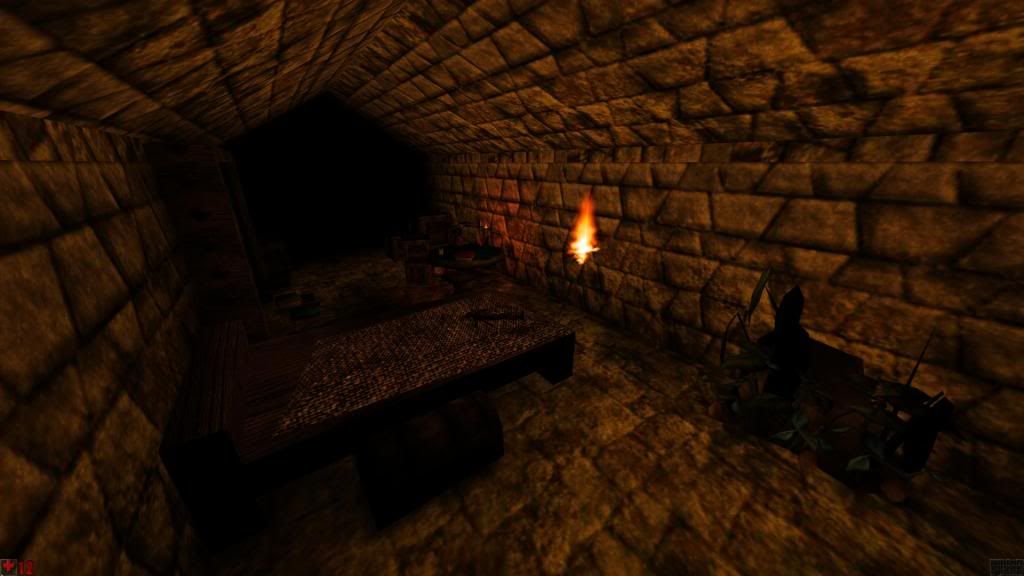 I'm open to any suggestions that would make this more "Cozy". Rocking chair? Carpet/rug? whatever
Tell me what you think would improve the feel of this place and I'll see if I can accomodate
I've already got dice, books, knife, plantpot, candles, bed, bookshelf, stool, and if you look carefully, you might notice a na pali style "teddy bear"
Alone in the dark.
As regards these shots, there's still a todo list: Need to add a water sheet to the nalifruit crack-in-the-wall. Need to litter that cracked area with bits of rubble. Need to add a glass of water to the table. Need to get a decent mirror in there somewhere. Maybe a wardrobe.
Need to Redo the lighting.
Seriously, that floating flame is pissing me off, I need to find a way to keep it sourced that goes with the established theme (that is, no big gold candlesticks or something, as it would be out of place, and somehow a nali-lantern jars badly with what I've already got. I'll be looking for some sort of simple, wooden torch)
Need to add translator and messages. You're not going to be able to shoot your way out of this corridor, you'll have to use your head, and read my damn translator messages
(tbh I haven't worked out how you're going to get out of here myself
but I'm aiming to make it a real brain teaser.)
The story of my entry is one which I don't want to say anything about; partly because on a certain level there wont be a story, but on another level there's going to be a certain "shallow" depth to the plot, which would be ruined if I decided to stop being cryptic about the whole thing
What I will say, is that currently I have plans to keep the background ambiguous. You wont immediately know whether you just woke up in this strange place, or whether you've been living there for a long period of time. I'll try to leave hints that go both ways. Maybe someone else was living there before you turned up? Who knows. Of course I may scrap this later and reduce ambiguity, but for now I'm enjoying the flexibility it offers.
Inspiration for this opening part comes from the mines of moria chapters of Lord of the Rings. It's been a long time since I read the books, but I remember one particular description JRR Tolkien provided of the Fellowship sleeping in a line with their backs to the wall of the seemingly endless halls of Moria. Frodo couldn't sleep easily and was all "omg this place is massive" and iirc was struck by the absolute silence and darkness. The images brought about by that description have stuck with me for a long time, and they have partly provided the inspiration for this part of my entry. That corridor stretches seemingly infinitely in both directions.
I attribute indirect inspiration for the "Cozy Home in a bizzare unsettling setting" to Shinigami, for being so damn weird in his maps